The AS series includes helical in-line reducers and geared motors.
Their features, like low noise level, are well known along with reliability, achieved by generous oversizing of housing and internal components.
The sizes 16 and 20 are now supplied with die-cast aluminium housing, which allows reduction in weight while keeping unchanged the strength by means of the accurate redesign of the housing.
In addition to the existing flange and foot mounted versions, available all throughout the AS/MAS series, framesize 25, 30 and 35 are also available in the following designs: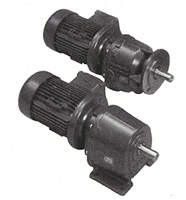 - R with reduced flange
- PR foot mounted with reinforced bearings.
They have both been designed with the aim of allowing higher overhung and thrust loads on low speed shaft.
Reinforced bearings are used for this purpose.
Version <<RC>> is available on frame sizes 25, 30 and 35 and features an output flange smaller than <<FT>> version. Version <<PR>> is available ou frame sizes 25 and 30 and shares same overall and fitting dimensions of <<P>> version.
The high quality of first reduction gears which are ground to quality class 6 (DIN 3962), the accurate design and the use of top quality components make this line the outstanding product within the Bonfiglioli range.